Act Now on COVID and Join Us Tonight or Support Us, We Need You!
Happy Holidays! I want to touch base with you about COVID-19, our annual meeting and holiday party, and our end of year campaign.
As you may know, COVID-19 is running rampant and cases and deaths are hitting record numbers. 8,213 new cases and 62 new deaths were reported just this week in Tennessee. Nashville reports 846 new cases and three new deaths. There are currently 3,273 active cases in Davidson County. We all have to do our part to stop the spread of this deadly virus.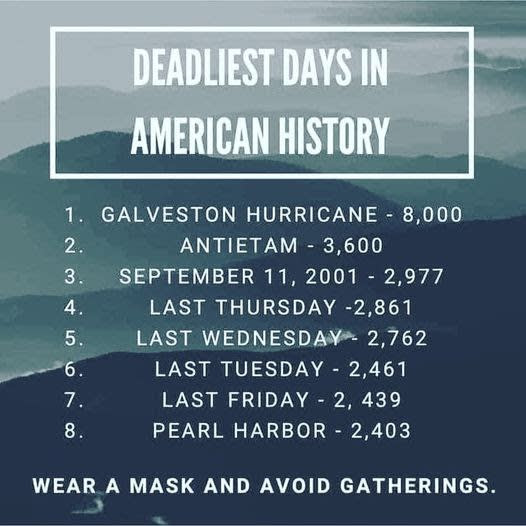 Take a look at this infographic that I shared yesterday. Think about that. And yesterday the total deaths from COVID topped 3,000+ making this graphic old and obsolete. In a single day, the Coronavirus killed more than 9/11!
Please wear your mask, keep your distance from people outside of your household, and stay home whenever possible. This wave is more concerning than others. Let's keep ourselves and others safe this holiday season!

Speaking of physical distancing and the holiday season, I hope you will join us TONIGHT for our Annual Meeting and Holiday Party! We still have a lot to celebrate! Check out this fun video Lauren and I made as we gear up for tonight's festivities. There will be music, networking, contests, and giveaways. Help us say goodbye to veteran board members and welcome our new board slate. Make sure to register now in order to receive the Zoom link to join us. You can watch on our Facebook page if you like but we would rather see your face and your "Ugly Zoom Background." Grab your favorite drink and give a toast to 2020 with the Nashville LGBT Chamber tonight at 5:30 pm!
Can't join us tonight? You can support the Chamber in other ways. Take a look at our 2020 Annual Report to review all of the accomplishments we are celebrating in the face of this hard and difficult year. Lauren's email earlier this week highlights these accomplishments and informs our members that invoicing is now live. We know that the pandemic continues to affect each of our members in a different way. We know some of you aren't ready to financially support the Chamber. We know some of you are in a sound position to continue your investment with us. Therefore, we are asking members to pay their membership invoices if they are able. We are not ending anyone's membership, regardless of payment. We are also grateful for donations made to our Foundation in order to continue our mission to educate, inspire, and empower LGBTQIA+ business owners and entrepreneurs through scholarship opportunities and professional development programs. All donations and payments are greatly appreciated! We can't do this work without you!
Happy Holidays and Happy New Year from everyone at the Nashville LGBT Chamber! Stay happy and healthy!