ACTION ALERT 04-02-21 - Current Status of Discriminatory Legislation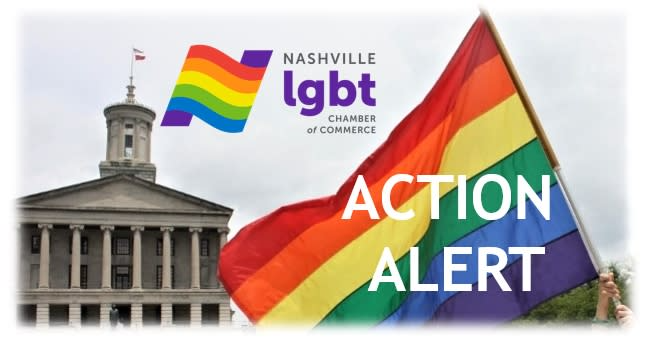 ACTION ALERT - Current Status of Discriminatory Legislation
4/2/21
Where we are:
As we wrap another busy week at the Tennessee General Assembly, two things are clear.
Lawmakers are continuing to push historic and devastating amounts of discriminatory legislation, not worried about the harm and fallout around that legislation.

Businesses and individuals are realizing the huge impact that will come if these bills pass and are beginning to do more about them.
The week ahead will be another critical week for engagement in trying to stop certain bills at certain points. Read up and take action.
If you would like to listen to me explain this, you can watch our update on Facebook, YouTube, or LinkedIn.

Tennessee has passed the anti-trans student-athlete bill into law. We are aware of conventions preparing to announce they are pulling out of coming to the state due to this legislation. All convention contracts have an opt-out clause that allows them to do this if the state the convention is located in passes discriminatory legislation. This has been in place broadly across the country after North Carolina passed the "Bathroom Bill'' in 2016. We will announce or highlight these cancelations as soon as they are final. We also want to highlight that we work to stop them from happening as boycotts negatively affect you, our members.

Tennessee has record amounts of discriminatory bills moving forward and statistics and history that are shaping the narrative that will fuel the extreme fallout.
Tennessee has:
Overall

The state with the most anti-LGBT bills filed this year.

The state with the most bills filed ever, with over 70+ since 2015.

The state with the most to lose. Tennessee has so much going on in regards to business and tourism and we will be record-breaking in the level of economic harm and fallout around passing these bills.

Bathroom Bills

The only state that has had a bathroom bill filed every year since North Carolina passed the bathroom bill in 2016.

The only state that had a bathroom bill filed this year, we have TWO bathroom bills up this year.

If those bathroom bills pass, the only state that has passed a bathroom bill since North Carolina in 2016.

Trans Healthcare Bans

We have two different versions of this bill.

The state with the most impactful trans-healthcare ban bill, this bill has criminal penalties for parents and doctors that seek to help trans-youth.

The other bill sets up a commission that has to give approval for transgender youth to be treated.

Censoring and Silencing LGBT Education and Voices in Schools

There are two bills that stop anything related to the LGBT people from being taught in schools.

One bill removes and prohibits a person's sexual orientation or gender identity to be brought up in teaching, and stops works from LGBT authors from being read or performed.

The other bill allows parents to "opt-out" their children from being taught anything related to LGBT people, because in the words of the sponsor "that should be taught in the home.
What happened this week:
With that warning going out and becoming even more clear, we saw engagement this week in a number of ways.
Mayor Cooper issued a statement regarding Governor Lee signing the "Anti-trans Athlete bill." It is great to see leaders stepping out publicly. Nashville should be very concerned as it has the most to lose in the economic fallout and boycotts.
Nashville Councilmember Bob Mendes issued a warning on Twitter that any Metro economic and community development incentives would be tied to a company publicly working against anti-LGBT legislation.
We had several more corporate signers to our open letter of Tennessee Businesses Against Discrimination with Cobalt Music Group, Cummins Inc., BMG, Pilot, ServiceSource, and Lyft signing on as corporations. The small businesses across Tennessee continue to grow as well. We are still taking signers and will be releasing the updated letter in a press event, see more details below.

Business leaders continued to have one on one conversations with House and Senate leadership.
With that happening, we still saw discriminatory anti-LGBT legislation move forward this week.
Monday the "Bathroom Signage" bill passed the Tennessee House of Representatives.

Tuesday the "LGBT Education Ban" bill moved forward in the House Education Committee.

Wednesday the "Opt-Out" bill passed out of House Education Committee and the "Transgender Healthcare Ban" moved forward in Senate Health Subcommittee.
Here is coverage of the bills in the media.
Education around transgender issues is more important than ever with these bills specifically targeting the trans community. Wednesday was Transgender Day of Visibility and the LGBT Chamber focused on trans education in a number of ways. We hope these resources may help you.
The week ahead:
The schedule of discriminatory bills to be heard this week. See a bill report of further details on the bills at the bottom of the email.
Monday, April 5th:
4pm - Senate Chamber, Senate Floor:
SB1229 Rose - "Opt-Out bill"
Senate Status: 04/01/21 - Set for Senate Floor 04/05/21.
House Status: 03/31/21 - House Education Instruction Committee recommended. Sent to House Calendar & Rules.
HB529 - D. Moody - 03/31/21 - House Education Instruction Committee recommended. Sent to House Calendar & Rules.

SB1367 Bell - "Bathroom Bill 2.0"
Senate Status: 04/01/21 - Set for Senate Floor 04/05/21.
House Status: 04/01/21 - Set for House Finance, Ways & Means Subcommittee 04/07/21.

Tuesday, April 6th:
12pm - House Hearing Rm II, House Health Subcommittee
HB1027 Kumar - "Anti-Trans Healthcare Commission"
Senate Status: 03/31/21 - Senate Health & Welfare Committee recommended with amendment 1 (005771). Sent to Senate Calendar Committee.

1pm - Senate Hearing Rm I, Senate Judiciary Committee
SB1224 Rose - "Bathroom Signage bill"
Senate Status: 04/01/21 - Set for Senate Judiciary Committee 04/06/21.
House Status: 03/29/21 - House passed with amendment 1 (004939).
Wednesday, April 7th:
11am - House Hearing Rm I, House Education Instruction Committee
HB 800 Griffey - "LGBT teaching ban" bill.
Senate Status: 02/22/21 - Referred to Senate Education Committee.
House Status: 04/01/21 - Set for House Education Instruction Committee 04/07/21.

2pm - House Hearing Rm I, House Health Committee
HB578 Ragan - "Anti-Trans Healthcare Ban"
Senate Status: 02/11/21 - Referred to Senate Judiciary Committee.
House Status: 04/01/21 - Set for House Health Committee 04/07/21.
Take action:
Businesses and Organizations: If you have not, you can still sign the open letter of Tennesse Businesses Against Discrimination. Corporations and small businesses are encouraged to sign, use the form to do so.
We will be re-releasing the letter and highlighting the new and early signers in a press conference Monday, April 12th. Signers are encouraged to give us statements we can release to the press and we will be highlighting companies that would like to appear and read their statement. We will also be updating the press on the continued fallout regarding discriminatory legislation. Sign up on the form by midnight April 11th to be included in the release.

Individuals: Please talk to your employer or business you frequent on signing the open letter.
The Tennessee Equality Project has direct action campaigns to contact your legislators by email and phone calls. They can be found here. Please take action.
2021 Nashville LGBT Chamber bill tracklist:
SB228/HB3 by Sen. Hensley and Rep. Cepicky: "Anti-trans student-athlete bill"
This bill repeats the effort to prevent transgender students from participating in high school and middle school sports. It ties a student's gender to the original birth certificate. The "whereas" clauses attempt to pit transgender people against women's sports.
Signed in to law by Governor Lee on March 26.

Anti-Trans Healthcare-

SB657/HB578 by Sen. Bowling and Rep. Ragan: "Anti-trans healthcare ban"
This bill criminalizes gender-affirming care for transgender youth. It penalizes doctors and parents for seeking treatment for their child.

Bathroom Bills-

SB193/HB372 by Sen. Bowling and Rep. Casada: "LGBT diversity training opt-out"
This bill allows employees of state or local government (which also includes public universities and colleges) to skip training or seminars that conflict with their values or religious beliefs. We believe that the bill provides a way of undermining LGBTQ-inclusive training sessions and seminars offered by government entities.

SB1229/HB529by Sen. Rose and Rep. Moody:
This bill would require public schools to notify parents before offering any curriculum about sexual orientation and gender identity. The bill allows parents to opt their children out of such instruction.

SB1216/HB800 by Sen. Niceley and Rep. Griffey:
This bill censors LGBTQ content in public school textbooks and instructional materials. It's an updated version of the old "Don't Say Gay" bill.

SB1238/HB1177 by Sen. Pody and Rep. Jerry Sexton:
This legislation is an anti-transgender "bathroom" bill.

SB562/HB233by Sen. Bowling and Rep. Leatherwood:
This bill appears to be a caption bill that would eventually carry explicitly anti-marriage equality language. It pertains to marriage licensing and definitions.

SB1208 by Sen. Pody:
"As introduced, prohibits this state and any political subdivision of this state, or any official of this state or a political subdivision, from creating, enforcing, or endorsing policies that respect or promote non-secular self-asserted sex-based identity narratives, sexual orientation orthodoxy, or non-secular marriage doctrine because the policies fail the Lemon test, as established by the United States Supreme Court in Lemon v. Kurtzman, 403 U.S. 602 (1971)." Note: There is no House sponsor at this time.
Stay updated on all of our Action Alerts: