Announcing June Pride Month LGBT Chamber Events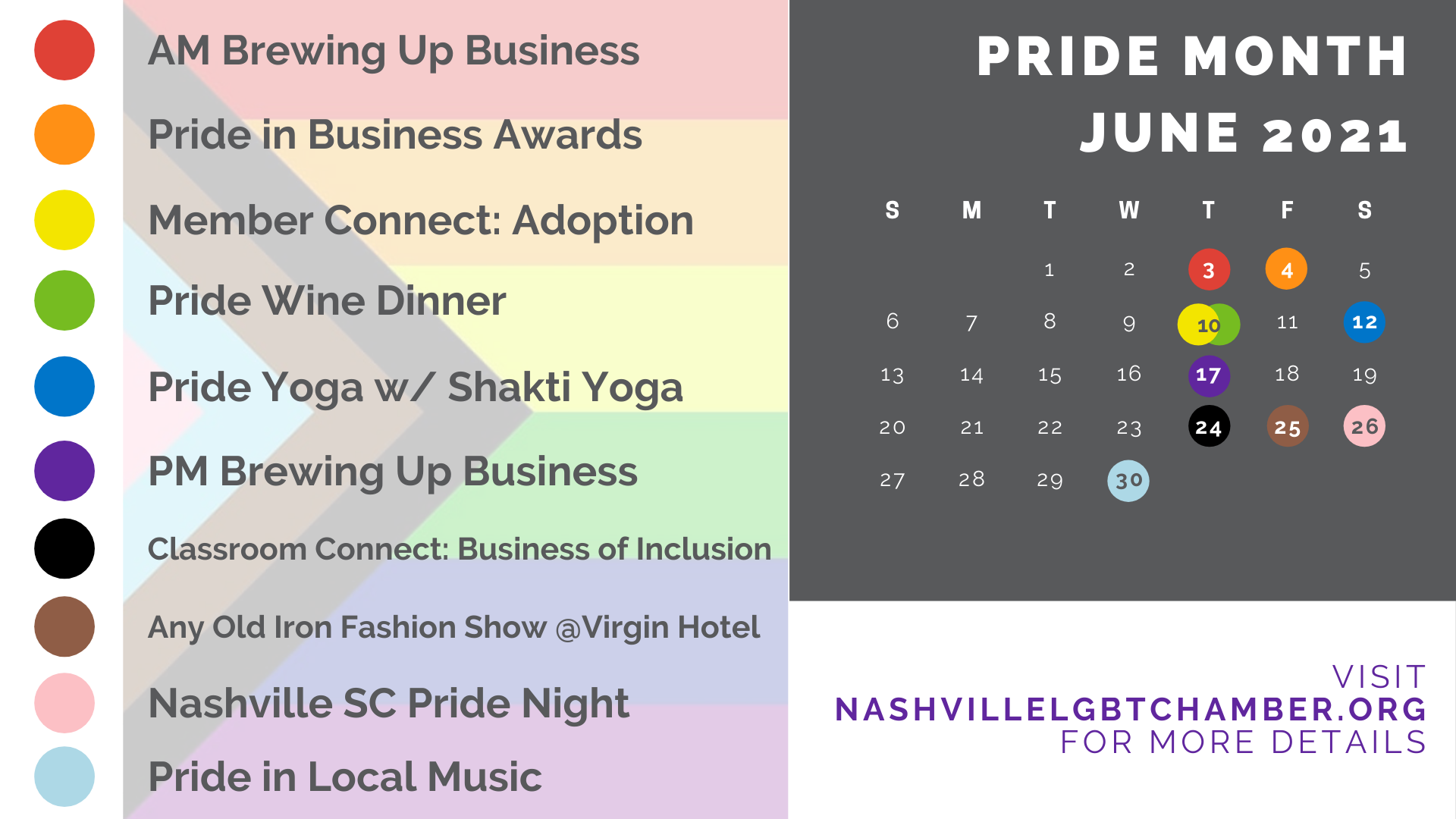 June Pride Month Announcement
Did you catch our June Pride Month Announcement this morning online? Our staff broadcast our announcement of events coming your way for Pride Month events we are putting on! You can watch it here and read about them below. Mark your calendars and get ready to celebrate PRIDE! 10 Chamber Pride events are coming your way, do you have your rainbows ready?
---

June Pride Month Events & Programs
Note - Some of these events are not live to buy tickets to yet, but we wanted to get them on your calendar. You will receive an email about each as the details are finalized and tickets go live.
Network Connect June: AM Brewing Up Business
Thursday, June 3, 9 am - 10 am
Virtual
Join us on Airmeet for our monthly morning networking event to connect with Chamber and community members. Free and open to everyone.
2021 Pride in Business Awards
Friday, June 4, 11 am - 1 pm
Hybrid
Support the Nashville LGBT Chamber Foundation at our annual Pride in Business Awards, which includes a Who's Who of Corporate leaders, small business owners, civic leaders, and professionals. While reimagined for a virtual world, this high-energy event will still bring a powerful audience, emotional acceptance speeches, and optimism among those committed to diversity and inclusion in the workplace.
You can network on the Airmeet platform or join us at member businesses for in-person networking. Then everyone will watch the live event together, the finalist will be gathered in a location and broadcast live to the internet! Join us, support us, and celebrate our members and the community!
Member Connect June: Camelot Care Center & Jewish Family Services
Thursday, June 10, 11 am - 12 pm
Virtual
Join us for an in-depth highlight of two of our members who specialize in same-sex adoption services, specifically for the LGBTQ+ community. We will highlight our members Camelot Care Services and Jewish Family Services.
Pride Wine Dinner with Tennessee Wine & Spirits Retailers Association, featuring food from The Mockingbird
Thursday, June 10, 6:30 pm - 8 pm
Virtual
Join us for a virtual wine tasting dinner that will celebrate pride and the work of the Chamber. The TN Wine & Spirits Retailers Association is bringing us this event and a portion of the price benefits the LGBT Chamber! We will be tasting Italian wines from Pasqua Winery and eating delicious food paired to those wines prepared by our member and LGBT-owned business The Mockingbird. You don't want to miss this special event.
Pride Yoga with Shakti Power Yoga
Saturday, June 12, 9 am - 12 pm
Shakti Power Yoga
Our member Shakti Yoga is bringing you Pride Power Flow Yoga on Saturday morning, outside, followed by discussions, DJs, drag, donuts, and drinks! Get your down dog on and wear your pride athletic wear!
Network Connect June: PM Brewing Up Business
Thursday, June 17, 5:30 pm - 7:30 pm
Hybrid (Virtual & In-Person, location TBA)
We will be celebrating our signature event, going strong for 23 years, and we will be back in person at an amazing new member location. Final details are still being arranged, but you don't want to miss this event. Our first official in-person event since the pandemic took us virtual.
Classroom Connect June: The Business of Inclusion
Thursday, June 24, 11 am - 12 pm
Virtual
We are wrapping this version of the Classroom Connect education program on a high note. The Business of Inclusion will be taught by Adrianna Flax of the Culture Shift Team. We will highlight the work of the winners from our Business Awards and discuss why diversity and inclusion is the biggest program and factor affecting the business community at the moment.
Thanks to HCA Healthcare/Tristar Health for sponsoring the last 9 months of this program. We could not have done it without them.
Pride Fashion Show with Any Old Iron
Friday, June 25, 7 pm - 9:30 pm
Virgin Hotel Nashville
The amazingly talented Andrew Clancey of Any Old Iron will present his Pride fashion line at the Virgin Hotel. Both Any Old Iron and The Virgin are members and proceeds of the fashion show will go back to the Chamber for support of our work. This glamorous event is not to be missed. Tickets will be limited and will go fast. Attendees will receive a table, food and drink, and get to see the most amazing rainbow fashion of the year. There will also be several surprises, you won't believe who is walking in the show!
Nashville SC Pride Night
Saturday, June 26, 6:30 pm - 10 pm
Nissan Stadium
The Nashville Soccer Club wants you N for their official Pride Night game! We are taking over 3 sections in the lower bowl at Titans Stadium for Pride Night. LGBTQ artists will give the guitar rift and sing the national anthem, LGBT-owned businesses will be highlighted, and a LGBTQ person will be the Hero of the game, and we will wear our special rainbow soccer scarves that you will get with your tickets. This event is going to be huge! Tickets and further details coming soon.
Pride in Local Music
Wednesday, June 30, 6 pm - 8 pm
Virtual, Viewing Party Locations TBA
If all that was not enough, we are ending Pride month on a high note, literally. The music notes that will be hit as we celebrate Pride in Local Music for a second year with our friends in Austin will be epic. You won't believe the lineup of artists and locations that will be featured. Join us at several viewing party locations to watch and network in person, or watch from home. This event will close out an amazing Pride month and donations brought in during ht event will benefit the Austin and Nashville LGBT Chamber.