BREAKING - ACLU Files Lawsuit to Challenge Bathroom Signage Law
BREAKING - The Nashville LGBT Chamber has been working with the ACLU of Tennessee to find businesses to challenge the anti-trans "Bathroom Signage Law" that was passed this year.
Today the American Civil Liberties Union of Tennessee and the ACLU filed a lawsuit in federal court today challenging a new, first-of-its-kind Tennessee law that would require businesses and other entities that allow transgender people to use the restroom that matches their gender to post a government-prescribed warning sign.
The lawsuit, filed on behalf of business owners in Nashville and Chattanooga who object to the stigmatizing message they would be required to display, states that the law violates the First Amendment and asks the court for a preliminary injunction to stop enforcement of the law while the lawsuit proceeds.
The lawsuit was filed on behalf of Kye Sayers, owner of the Sanctuary performing arts and community center in Chattanooga, and Bob Bernstein, owner of Fido restaurant in Nashville. Both businesses have informal policies allowing customers to determine which restroom is appropriate for them, and have not had any complaints or concerns raised about their restroom policies.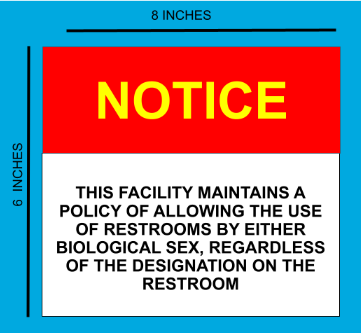 If the law goes into effect, any business that fails to prevent transgender and intersex people from using the restroom that most aligns with who they are would be forced to post signs with the word "NOTICE" in yellow on a red background at the top, followed by text stating, "THIS FACILITY MAINTAINS A POLICY OF ALLOWING THE USE OF RESTROOMS BY EITHER BIOLOGICAL SEX, REGARDLESS OF THE DESIGNATION ON THE RESTROOM," or face criminal charges.
The law is scheduled to go into effect on July 1. The ACLU would like to hear from any businesses that receive a notice that they are violating this law. We are hopeful that the law will be held from going into effect until the court case is decided. The Nashville LGBT Chamber and other business and LGBTQ+ groups will be sharing information on what the rights of transgender people are and what businesses are in regards to the law. Look for that information early next week.
The Nashville LGBT Chamber of Commerce, the Human Rights Campaign, and the ACLU of Tennessee are looking for businesses to sign an Amicus Brief (friend of the court brief) in support of the lawsuit challenge. Please let us know if you are interested in more information on this.
You can read the full ACLU press release here with quotes from the plaintiffs.
The complaint filed today can be here.
More information from the ACLU on the case can be found here.
We will keep you up to date on the development of this case.
We thank the ACLU and the plaintiffs for this action.