Fenix Arts Opens Their Gallery Doors to LGBTQIA+ Artists from the Mid-South
The Visual and Performing Arts Center at Fenix
150 N. Skyline Drive
PO Box 2892
Fayetteville, AR 72702
Press Release:
Contact: Laurie Foster 479-530-6023,
fenixfayettevilleart@gmail.com
"Queer"
After a successful trans artist exhibition in 2021, "Pronouns"; Fenix Arts, a Fayetteville, AR non-profit arts center, will be opening their gallery doors to LGBTQIA+ artists from the mid-south area for a two-month-long juried exhibition featuring visual art, music, poetry and performance in celebration of this vibrant and creative community.
The focus of this exhibition will be to give voice to this under-represented population to share their stories and dreams. At Fenix Arts we believe that all people deserve dignity and respect, and a connection to community and resources.
The exhibition will open June 2, 2022 at Fenix Arts at Mt Sequoyah Center in Fayetteville, AR and at Gallery 214 in neighboring Springdale, AR and run through July 30, 2022.
Fenix Arts is a diverse and inclusive art collective of accomplished Arkansas artists who have been juried into the gallery by a curation committee of professional artists, arts advocates and appraisers. Our mission is to support, encourage, and raise up and promote a diverse arts community in Northwest Arkansas. Please visit our website at https://fenixarts.org
Deadline for Entries: March 15, 2022
Notification of Jury Results: April 1, 2022
Show Date: June 2, 2022 thru July 30, 2022
LGBTQIA+ artists, age 18 and above, currently living in the mid-south (Arkansas, Missouri, Oklahoma, Texas, Tennessee, Louisiana, and Mississippi) are eligible to enter.
Artworks must have been completed within the past 2 years.
Artworks should reflect some aspect of the queer experience.
Entry fee of $25 for up to 3 artworks. 3-D artworks may include up to 3 views per artwork.
Entry fee is non-refundable and does not guarantee entry into the show.
Artists are encouraged to submit works that will be available for purchase. Only 10% of exhibition space can be allotted to NFS artwork.
Fenix Arts will take a 40% commission on works sold during the exhibition.
Works will not be accepted after the March 15, 2022 deadline.
Cash awards of over $500.
Exhibition entry can be made through entrythingy.com call for art.
Guest juror for "Queer" Is Brad Cushman, UA Little Rock Gallery Director/Curator and a studio artist living in Little Rock, Arkansas. He received a B.A. in Studio Art from Illinois College, Jacksonville, Illinois, and an M.F.A. in Painting from Cranbrook Academy of Art, Bloomfield Hills, Michigan.
Cushman's curatorial projects have included exhibitions that promote cultural diversity and social justice, through the voices of Black, White, Latino/Hispanic, LGBTQ+2, South Asian, and African artists.
Cushman exhibits his own studio art in regional and national exhibitions featuring paintings, polymer gravure etchings and mixed media works. He is the voice of
Picture This
on NPR in central Arkansas. His audio essays on art and design have been broadcast since 2005. He can also be seen hosting
Inside Art
, a television program produced on University TV.
Learn more about Brad Cushman @ https://www.arkansasartscene.com/home/interview-with-brad-cushman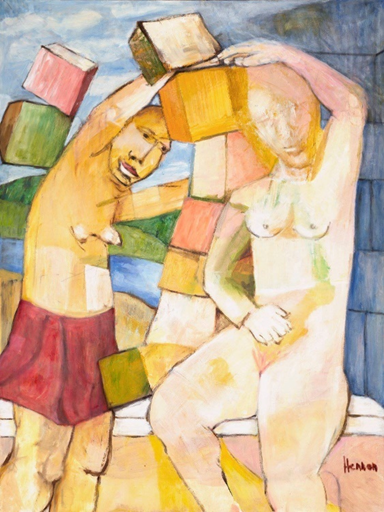 "Transformation", Pat Hennon, Fenix arts artist, oil on board