Member Press Release: Pathway Lending Opens Applications for $4 Million in Metro CARES Act Grants
EMBARGOED FOR RELEASE MONDAY, OCTOBER 12, 2020

Pathway Lending Opens Applications for $4 Million in Metro CARES Act Grants October 14

Eligible Nashville and Davidson County Small Businesses and Live Music Venues Encouraged to Apply
NASHVILLE (October 12, 2020) – Applications go live October 14 for $4 Million in Metro CARES Act grants Pathway Lending is administering, the nonprofit community development financial institution announced today. Nashville small businesses and live music venues seeking financial relief from COVID-related interruptions can now visit the application site at pathwaylending.org/METRO-CARES to review the application guide, eligibility requirements, FAQs and helpful links.
Starting at 10:00 a.m. CT on October 14, Pathway Lending will accept completed applications and award grants based on the order in which eligible businesses in Davidson County submit their applications. Applications will close once Pathway Lending has fully committed the grants.
Funds available to small businesses total $2 million with 30 percent reserved for minority-owned businesses and $600,000 for microbusinesses. Small businesses in Davidson County may qualify for grants up to $10,000, and microbusinesses for grants up to $5,000.
Funds available to live music venues total $2 million. Live music venues in Davidson County may qualify for grants up to two months of operating expenses, not to exceed $100,000.
Metro Council approved Pathway Lending to administer the two $2-million Metro CARES grant funds in resolutions it passed in recent weeks, among other recommendations from Metro's COVID-19 Financial Oversight Committee for distributing $18.5 million in federal relief funds to Davidson County businesses
and residents. Committee recommendations followed a community needs assessment Mayor John Cooper's office undertook in partnership with the Equity Alliance.
"We recognize the care, diligence that's gone into the work up to this point and are honored by the trust placed in our organization to deliver these vital funds to the parts of our business community that need them most," said Pathway Lending President and CEO Clint Gwin.
Metro Council also approved Committee recommendations to fund other community partners to provide grants, programming and technical assistance as part of Metro CARES Act distributions, including Conexión Américas, Nashville Area Chamber of Commerce, Nashville Business Incubation Center, and Nashville Entrepreneur Center.
All businesses that submit a Metro CARES grant application to Pathway Lending qualify for technical assistance from Pathway Lending with a free account and free enrollment in selected programs on Pathway Learning, its new on-demand online learning platform. Learners can access programs – including webinars, workshops, classes, multi-week cohorts and coaching – anytime, anywhere at learn.pathwaylending.org or via by downloading the Go Learn app.
Applicants can direct all questions to CARES@pathwaylending.org. In addition to replying directly to the question, Pathway will post the question and answer on the application site FAQ section.
Pathway Lending will process applications, make award decisions, and disburse funds promptly with
plans to announce Metro CARES Act grant awards as soon as possible after the funds are committed and before the November 15 deadline to disburse funds.
Pathway Lending welcomes small businesses of all industries and stages to learn more about how they can start, grow or recover their businesses with lending solutions and learning programs by visiting PathwayLending.org or by calling (615) 425-7171.

###
About Pathway Lending
Based in Nashville, Pathway Lending is a Community Development Financial Institution (CDFI) certified by the U.S. Department of the Treasury that serves business and communities throughout Tennessee and Alabama, and parts of Arkansas, Kentucky and Mississippi.
Founded in 1999, Pathway Lending has grown to become a major lending institution in the Southeast, propelling meaningful economic growth in communities across the region. From fiscally responsible loans and hands-on support for business owners to flexible capital for affordable multifamily housing developers, our loans bring opportunities to the communities that need them most.
In 2019, Pathway Lending made more than $35.1 million in loans and delivered 21,265 hours of technical assistance and education. Get to know our mission and the stories of the entrepreneurs and communities we serve at PathwayLending.org.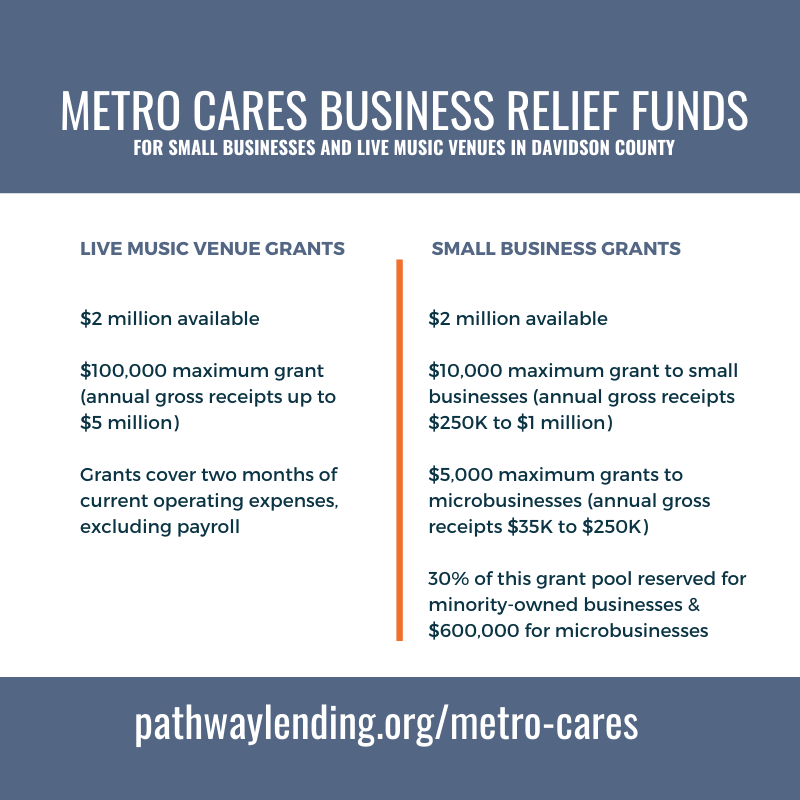 Images