Nashville LGBT Chamber Represented in all Categories of Nashville Business Journal's 2021 Power 100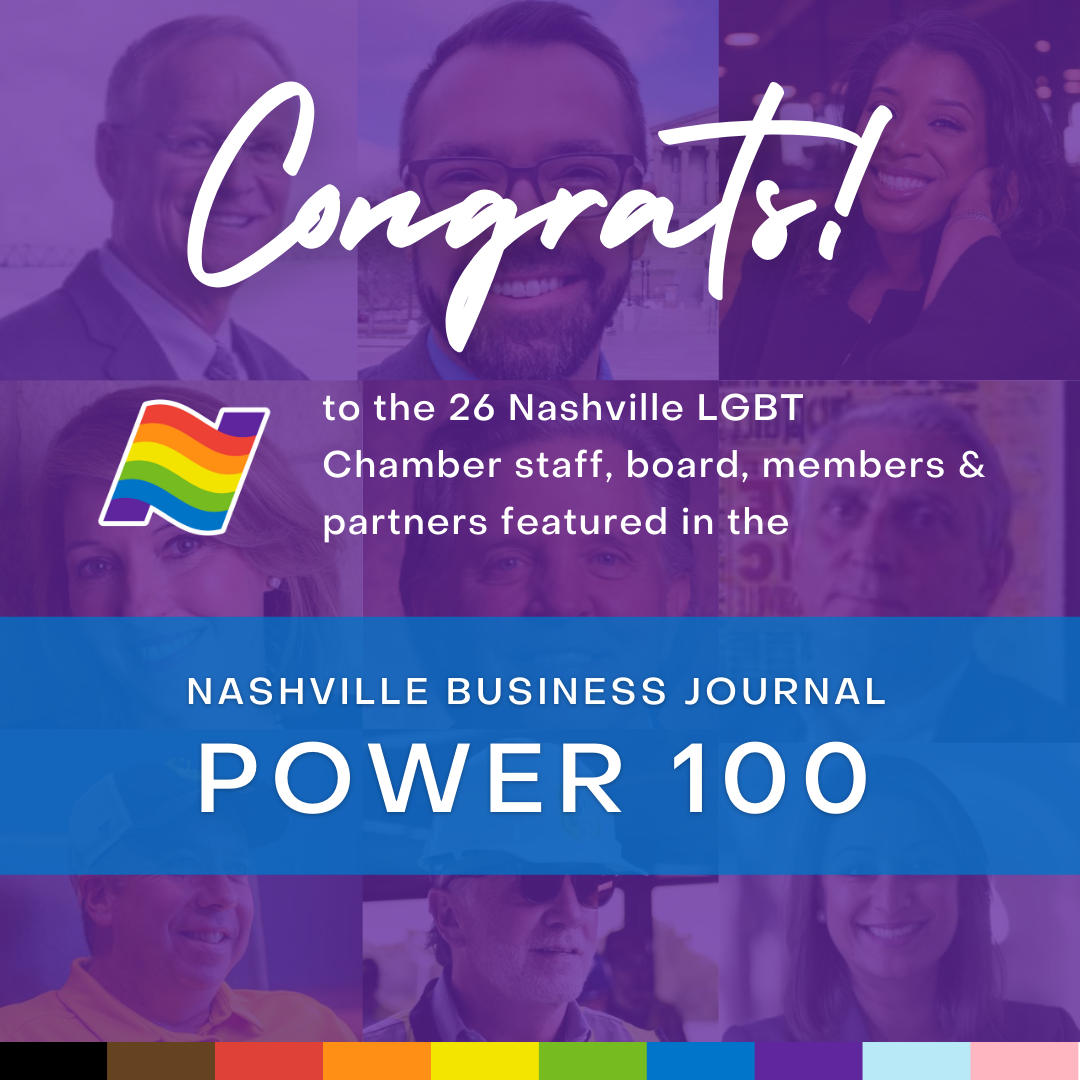 Nashville LGBT Chamber staff, board, members, and partners were featured in all 7 categories of the Nashville Business Journal's Power 100. Our network works hard year-round to make Nashville a diverse and equitable place to do business. Help us congratulate the following folks:
Daniel Diermeier, Chancellor, Vanderbilt University
Seth Bernstein, CEO, AllianceBernstein
Jeff Balser, President and CEO, Vanderbilt University Medical Center
Mitch Edgeworth, Division President, TriStar Health
Sam Hazen, CEO, HCA Healthcare, Inc.
Kate Burke, COO, AllianceBernstein
Tim Hingtgen, CEO, Community Health Systems
Doug Kreulen, President and CEO, Metropolitan Nashville Airport Authority
Hal Lawton, President and CEO, Tractor Supply Co.
Barry Vandevier, COO, Asurion
Jeff Hite, Chief Economic Development Officer, Nashville Area Chamber of Commerce
Rob McCabe, Chairman, Pinnacle Financial Partners
Butch Spyridon, President and CEO, Nashville Convention & Visitors Corp.
James Weaver, Partner, Waller Lansden Dortch & Davis LLP
Michelle Gaskin Brown, Manager of Public Policy, Amazon.com Inc.
Wanda Lyle, Former Managing Director, UBS Nashville
Jane Allen, CEO, Nashville Entrepreneur Center
Joe Woolley, CEO, Nashville LGBT Chamber
Mike Curb, Founder and Chairman, Curb Records
Tommy Frist Jr., Co- Founder and Former CEO, HCA Healthcare Inc.
Colin Reed, Chairman and CEO, Ryman Hospitality Properties Inc.
Terry Turner, CEO, Pinnacle Financial Partners
Holly Sullivan, Vice President of Worldwide Economic Development, Amazon.com Inc.
Ian Ayre, CEO, Nashville SC
Dee Patel, Managing Director, The Hermitage Hotel
Sean Henry, President and CEO, Nashville Predators