Proudly.Market Launches to Combat Discrimination and Create a Safe Space for LGBTQ+ Community and Allies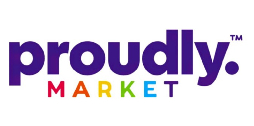 Franklin, TN, July 4, 2023 - Proudly.Market wishes everyone a joyous Independence Day and hopes that this special day is being celebrated by embracing the freedom to engage in activities of your choice alongside your loved ones.
Establishing a business owned by gay founders and centered around the gay community can be seen as a powerful political act in itself. With this in mind, Art Anderson and Ricky Corazza, the founders of Proudly.Market, have made a conscious decision to refrain from personally and publicly responding to every attack or aggression against the LGBTQ+ community. Instead, they have created Proudly.Market, a dedicated space for the community and its supporters—a platform that encourages connection, unity, and resilience in the ongoing fight for equality.
However, Proudly.Market felt compelled to address the recent ruling in favor of Creative LLC, which has sparked concerns among legal scholars and pundits. This ruling has the potential to permit outright discrimination by allowing the refusal of service to ANY person deemed "counter to deeply held beliefs." The founders believe this ruling to be illogical, absurd, and a significant threat to the LGBTQIA+ community, as it disproportionately impacts their lives. Therefore, they have issued this statement.
Proudly.Market is an ecommerce platform that revolves around LGBTQ+ vendors, makers, creators, service providers, nonprofits, and all allies. By engaging in buying, selling, and shopping on Proudly.Market, individuals can find a secure haven shielded from hate, bias, prejudice, and the now codified discriminatory practices.
On this Independence Day, Art and Ricky "proudly" proclaim to the world that Proudly.Market will launch in late August 2023, and they are fully committed to providing a space that is free from bias, prejudice, hate, and discrimination. It will be a supportive, inclusive, and positive environment for all LGBTQ+ members and any allies who share their vision. The founders firmly believe that every person deserves respect and dignity.
Proudly.Market will begin on-boarding interested service providers as well as NGLCC affiliate chapters in late July. If you are interested please reach out to Proudly.Market for more details and also sign up for the newsletter which will keep you up to date on the progress of the Proudly.Market Launch.
Always remember: YOU BELONG HERE.
In solidarity,
Adrienne Hinds
Chief Marketing Officer
Proudly.Market
Adrienne.H@Proudly.Market
615-200-0838