Shakti U Yoga Teacher Training and Scholarship Opportunity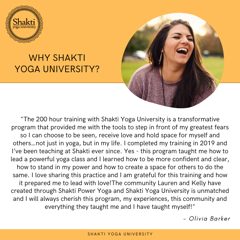 Shakti Power Yoga founders, Lauren Farina O'Brien and Kelly Carter, created Shakti Yoga University to be an institute of higher learning and way of being through the practice of yoga.
Shakti Yoga University (Shakti U ) is an accredited yoga teacher training school recognized by The Yoga Alliance. Our programs consists of 200 hour, 300 hour and all-day intensive trainings. With your participation you can expect to discover the transformational power of yoga, and learn what it takes to shift your life and propel yourself into new possibilities."
Be The Change: Shakti U Virtual Yoga Teacher Training
8 Weekends Jan - Mar 2021
The world is shifting and Shakti U is a virtual training that can be used to have a direct effect on how you want to show up in the world and be the shift you want to see. Join us for an exciting opportunity to learn new skills and have an embodied experience of the principles and practices of yoga from the convenience of your home. Take a deep dive into your practice and create a new experience of power and purpose in all areas of your life.
SHAKTI U VIRTUAL TEACHER TRAINING DATES
Jan 23 + 24
Jan 30 + 31
Feb 6 + 7
Feb 20 + 21
Feb 27 + 28
Mar 13 + 14
March 20 + 21
March 27 + 28