TN Event Health: Covid Screening & Contact Tracing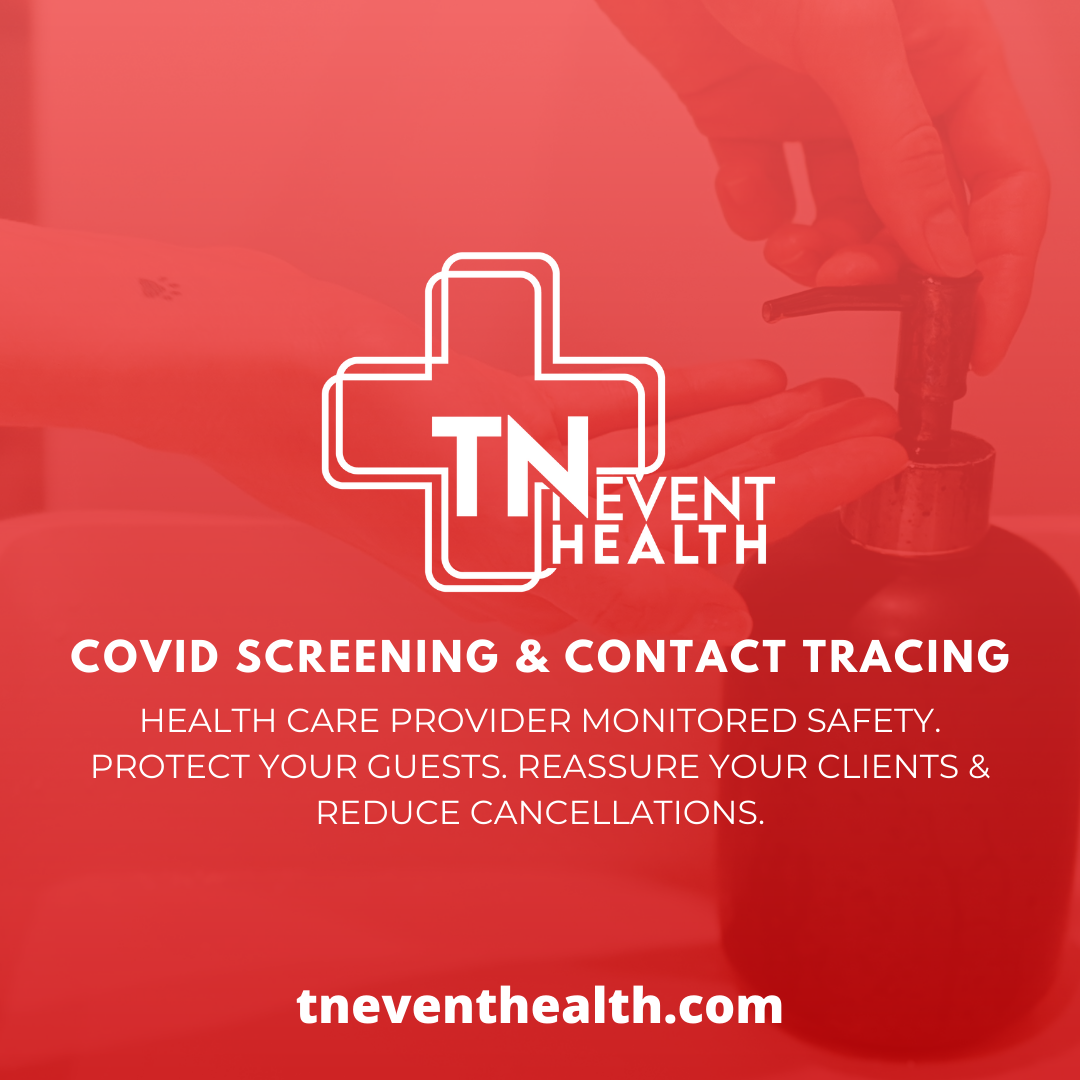 About TN Event Health
TN Event Designs has shifted efforts to keep our events industry friends safe while they host events in limited capacity. Co-Owner, Brandy Ashley is a licensed nurse with a Bachelor Degree in Healthcare Management. With specific training in COVID19 Relief and Response, Brandy created our Safe Event Packages -mixing our love for helping people and health care with our typical events services. TN Event Designs offers Contact Tracing and Temperature Screening, allowing access to a process that best protects anyone within your facility and provides the safest experience for your event. Through our introduction of these packages, we've been able to help our clients and vendor friends feel more safe in their planning process which has reduced cancellations across the board. Making our vendors happy, our clients healthy, and moving the industry forward in the safest way possible.
Provided Services:
- Temperature Checks + Covid Screening
- Waiver + Contactless check-in (customized virtual form for your event!)
- Employee + Vendor Screening
- On-Call Nursing Staff
- Disinfectant of common areas every 15-30 minutes
- 2 Weeks of Contact Tracing post-event
- Provided Materials: Masks, disinfectant wipes, hand sanitizer
Website: https://www.tneventhealth.com/
Facebook: https://www.facebook.com/TN-Event-Health-106223798019406
Instagram: https://www.instagram.com/tneventhealth/
Primary contact: brandy@tneventdesigns.com
About TN Event Designs
Lighting, Draping, and Custom Builds. Create a beautiful space or backdrop, set up and hand-crafted by our team of event professionals. We believe in creating visionary spaces for ceremonies and receptions of all sizes and shapes. Not only do we do lighting and draping, but custom creations are kind of our thing! Let's make your wildest vision into a reality! We're called on for being the fastest in the industry upheld by meticulous quality, pride in our work, and a stellar reputation. Contact TN Event Designs to work with a team that will always work to transform your canvas and create the ambiance of your dreams.
Website: https://www.tneventdesigns.com/
Facebook: https://www.facebook.com/TNEventDesigns/
Instagram: https://www.instagram.com/tn_event_designs/
Primary contact: info@tneventdesigns.com