We Remain #NashvilleStrong, Recovery From the Christmas Day Bombing
Members and friends.
Once again we come to you with an update and information after another tragedy, once again Nashville has been hit, once again we have to say we are #NashvilleStrong. We are strong, stronger than any city, and we will rebuild from the Christmas Day bombing in downtown Nashville, but we know you are exhausted, we know we are. We have heard from so many and that is the message, how can I help but wow are we tired. We are digging deep and we ask you to as well, we have this and we will overcome this too. A tornado, COVID lockdown, derecho, riots after peaceful protests, financial insecurity for our government, more COVID impacts with the highest rates in the world, and now a suicide bomber in our downtown core. (No one ask what else can happen!) It is ok, we have this, we grow stronger after each challenge.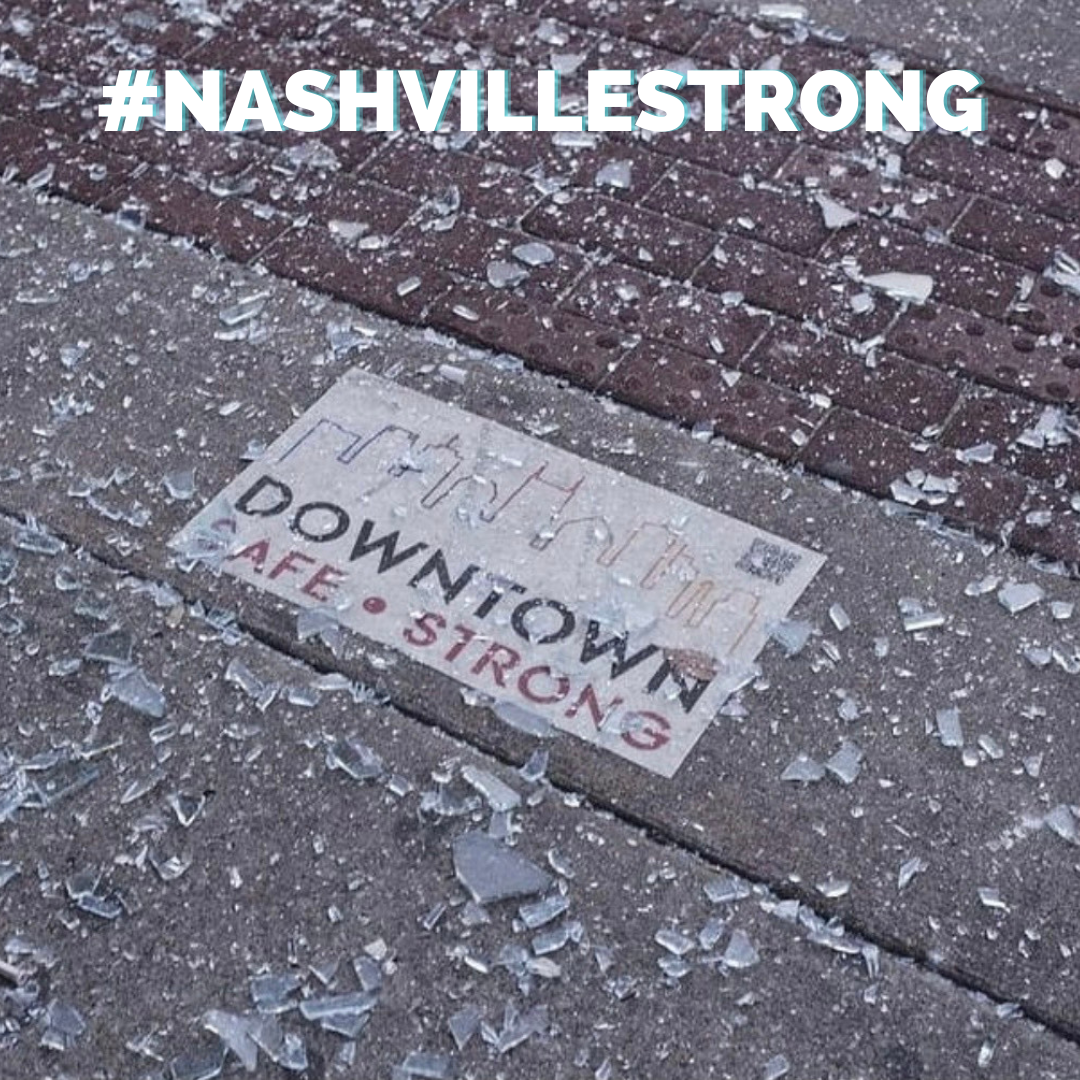 The image of a Downtown Partnership sign on the sidewalk with blast debris on it spoke to us and serves as a good image for what we faced. We are bent but not broken. We are Safe and we are Strong.
Our hearts and support go to the members and businesses that were doing everything they could to hang on and make it through COVID to now have their businesses destroyed or cut off from customers. We also feel for those that have lost their homes and their neighborhood. We mourn the loss of historic Second Avenue, one of the most historically preserved and unique streets in our downtown core.
We are so grateful that no one was severely injured or killed, we cannot rebuild or overcome that loss. Our appreciation and thanks go to the incredible first responders especially the six heroic Metro Nashville Police Officers who cleared the area and saved numerous lives. We cannot thank them enough. If you have not watched the press conference where they recount their actions you should, I watched in awe and tears. We owe a big thanks to MNPD, Metro Nashville Fire Department, and all the state and federal law enforcement partners involved in the investigation and for swiftly identifying the bomber yesterday. We have been told there are no additional threats, and Nashville and downtown are safe. We also want to applaud the work from our member AT&T as they worked extremely hard to restore service to so many.
We remain committed to helping our members, our community, and our city through this. We have reached out to all 40 members in the area and the 14 that have been directly impacted, and we are assisting as we can. We have heard from so many members who want to help. We know our city will need assistance but, at this point, we're not sure when and on what scale that assistance will be needed. If you have any advice, donations, or services please email me and let us know and we will help coordinate and let you know where and how you can help.
Here are other resources and information that we know of:
We were impacted by the AT&T internet outage and we missed wishing those that celebrate a Happy Kwanzaa. We also wanted to make sure you saw our Christmas message that seems to have even more meaning and impact to it now, I know I am more grateful than I was.
Thank you again for your support and staying #NashvilleStrong. We will continue to update you on this situation. One last reminder that we are still in the darkest days of COVID and need everyone to continue to be safe and #WearYourMask #MaskUp #MaskForNash. We are tired but we can do this. Hang in there and here is to a new year and hopefully better times ahead.